AGM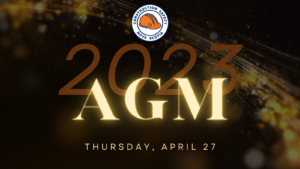 Thank you to everyone who attended our 2023 AGM!
Every year, Construction Safety Nova Scotia celebrates the achievements of its member firms and reviews the association's accomplishments and priorities at the Annual General Meeting (AGM) and Awards Ceremony. We hope that you will join us to approve new board members, voice your opinions on how we can positively impact safety in the construction sector, and enjoy a full hot lunch and networking opportunity. Plus, this year we have mental health expert Allan Kehler who will deliver a keynote address as well as a workshop on how you can support the mental health of your workforce.
Event Details
When: Thursday, April 27
Registration and refreshments opens at 9:30am. Event ends at 2:30pm. Detailed agenda coming soon.
Where: Cedar Event Centre
111 Clayton Park Dr, Halifax, NS B3M 1M3
Keynote Speaker
This year, we have the pleasure of welcoming an expert in mental health, Allan Kehler, who is joining us as our keynote speaker. Allan will speak through personal experience and offer tangible solutions to create a workplace that is caring, supportive, and knows what steps to take when a worker is suffering.
"I have dedicated my time and energy to strengthen the conversation around mental health so that others don't have to suffer in silence the same way as I did," Allan says. "I have learned that vulnerability equals strength. The more we share, put our walls down, and get real, the more we connect with others and most importantly ourselves. Together, let's create a safe, compassionate, and supportive environment that proactively addresses issues of mental wellness."
If you want Allan to speak to your company, high school, or at your event while he is in Nova Scotia, you can contact him here: info@allankehler.com or 1-306-612-3233.
Safety Awards
Each year we recognize member companies with our slate of health and safety awards. We want you to know you are appreciated and recognized for the great work you do to keep your workers safe on the job every day. Click on the name of the award to apply.
Women in Safety
This award is presented to a woman in occupational health and safety who exemplifies the highest standards for safety leadership, going above and beyond to create change.
Safety Champion
This award is given to an individual who consistently demonstrates outstanding safety excellence and support for their industry peers.
Young Worker Safety – NEW!
This award recognizes an organization that has innovated in ways to improve safety for young workers and has displayed exemplary health and safety practices specifically targeted to workers under the age of 25.
Best Safety Culture -NEW!
This award recognizes excellence in an organization's occupational health and safety culture. If your organization has strong safety leadership, a commitment to continuous improvement, and employees who take accountability for safety, make sure you nominate your company.
Workplace Mental Health Award – NEW!
Does your organization prioritize worker mental health? Do you have programs in place to support your workers' mental health? This award recognizes those companies who understand that mental health is just as important as physical health.
Awards are also handed out to COR® certified for Most Improved safety performance and the Chair's Awards of Safety Excellence for consistently strong safety performance. There is no application process for these awards. Winners will be notified in advance of the AGM. 
Nominations are now closed
AGM 2022
AGM 2022 Newsletter
The 2022 AGM Agenda
The 2022 AGM Minutes
Financial Statements Dec. 31, 2022