Board of Directors
Our organization is governed by esteemed industry leaders representing our eight founding member groups. Their commitment to safety excellence guides our organization towards a vision of zero time-loss incidents in the construction industry of Nova Scotia.
Introducing our two new board members!
Meet Jacqueline Hatt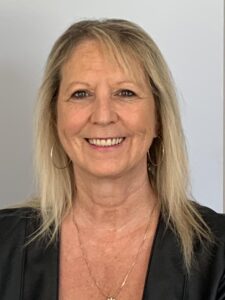 Jackie has dedicated over 30 years as an Occupational Health and Safety professional.  She has diverse experience in construction, manufacturing, road building, shipbuilding, bridge erection, waste management and fish farming dealing with all Occupational Health & Safety Issues.
Jackie has a lot of significant professional experiences in Occupational Safety; Occupational Health Issues (Nursing Background), Safety Consulting, Training, Wellness and Violence Programs.
In her past, she held recognized positions within the Nova Scotia Occupational Health & Safety Advisory Council – Vice Chair of Employer Caucus Council, Co-Chair of the Prevention Sub-Committee with the Workers Compensation Board.
Jackie has been the Recipient Professional Awards
1997 – Frederick Bardal Award – Safety Officer of the Year,
2006 – Champion Role Model/Mentor Award,
2008 – Leadership Award with WCB Prevention Sub-Committee
2019 – Women and Safety Leadership Award,
2021 – Named one of the Top Women in Canada for Occupational Health and Safety.
Her long-term goal is to engage more with decision makers and leaders to help create a safer Nova Scotia. She is open to challenges, conversations, and exchanges of ideas in the overall improvement of Occupational Health and Safety.
Meet Jo Ann Ortega
Jo Ann Ortega, Special Projects Manager at Nova Construction Co. Ltd. in Antigonish, has spent the past 25 years striving to improve workplace safety, primarily in the road build

ing sector of the construction industry.  She has excelled at building relationships that lead to safer workplaces – be it with co-workers, management, government, our local Indigenous com
munities or the general public.
Ortega began her safety career in her family's asphalt paving business after her passion for health and safety was ignited by the example of her Occupational Health and Safety Nurse mother.  A workplace accident came very close to taking the life of her father, which only solidified Ortega's determination to work diligently to improve safety culture in the workplace.
Ortega was proud to be a part of the Pilot Project that saw Indigenous engagement added to all Department of Transportation contracts and continues that outreach role to this day.
Typically, you can find her on a jobsite somewhere in the province encouraging colleagues to work safely or at home in Addington Forks with her husband, Joan, and their cat, Luis.
2020-2021 Board of Directors
Executive
Andrew Holley – Chair
Canadian Home Builders' Association – Nova Scotia
Kent Nickerson – Past Chair
Atlantic Concrete Association
Don Maillett – Treasurer
Department of Transportation & Infrastructure Renewal
Melvin Gillis – Vice Chair 
Cape Breton Island Building and Construction Trades Council
Directors
Dan Monk – Director
Canadian Home Builders' Association – Nova Scotia
Heather Cruickshanks – Director
Construction Association of Nova Scotia
Duncan Williams – Director
Construction Association of Nova Scotia
Jo Ann Ortega – Director 
Nova Construction Co. Ltd.
Brad Smith – Director
Mainland Nova Scotia Building & Construction Trades Council
Milton Howley – Director
Nova Scotia Power Inc.
Dan O'Connor – Director
Nova Scotia Road Builders' Association
Jacqueline Hatt – Director
The Stevens Group of Companies