Certificate of Recognition (COR®)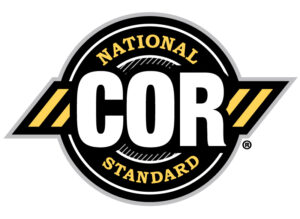 The Certificate of Recognition (COR®) is an occupational safety and health accreditation program that verifies a fully implemented safety and health management system which meets national standards. The objectives of COR® are to provide industry employers with effective tools to develop, implement, assess, and promote continual improvement of their safety and health management system to prevent or mitigate incidents and injuries as well as their associated human and financial costs.
COR® is nationally registered, trademarked and endorsed by the Canadian Federation of Construction Safety Associations (CFCSA) and is delivered through member associations that have a formal Memorandum of Understanding (MOU) to serve as the Authority Having Jurisdiction to grant COR® in their respective province/territory.
Each CFCSA member association grants COR® Certification to employers, monitors compliance with program requirements and serve as an employer's main point of contact for all operational aspects related to COR® in their respective province/territory. CFCSA member associations have the flexibility to include additional requirements tailored to their industry, province, or territory within their respective COR® accreditation program.
NOTE: COR® must be granted by the Authority Having Jurisdiction in each of the provinces/territories you work. A process is available to companies that have achieved COR® and would like to request equivalency/reciprocity in another jurisdiction.
Why should your company have 
COR

®
?
Companies who participate in COR® through Construction Safety Nova Scotia benefit from:
Ongoing support from professional OH&S advisors to develop and maintain your safety program

COR® certification is a pre-requisite to bid on provincial government tenders
Eligibility for a WCB rebate (up to 10%) once having obtained COR®

Reduced workplace injuries and Time Loss Claims resulting in increased productivity & profitability

Your Nova Scotia COR® Safety Program certification is recognized in other provinces (for a maximum one year) through reciprocal agreements between members of the Canadian Federation of Construction Safety Associations.
Submit to cor@constructionsafetyns.ca
Which 
COR

® 
pathway is right for you?
Your company size (Owner/Operator, Small Business, Intermediate, or Standard) will determine your path to achieving COR®. Companies will complete COR® and compliance training, implement a safety program, and complete an annual evaluation of their safety program. Upon achieving COR®, companies who maintain their COR® standard are issued an annual Letter of Good Standing.
Companies who maintain COR® standard are leaders in their industry, working to reduce workplace incidents and injuries. If you want to learn more about COR®, please click here.
This tool will help you understand the process for COR® certification, which depends on your company size and classification. Complete and submit the questionnaire below to learn more about your pathway to achieving COR®
What is your maximum number of regularly employed personnel?

Do you hire sub-contractors?