Certificate of Recognition (COR®)
What is COR

®
?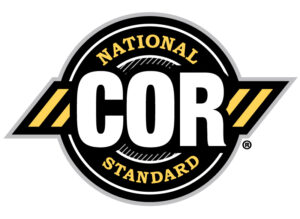 Certificate of Recognition (COR®) is a health and safety certification program for organizations in construction and related industries. COR® is proof a company's safety program meets nationally established standards outlined by the Canadian Federation of Construction Safety Associations. It also meets the Workers' Compensation Board (WCB) safety certified criteria.
Your company size (Owner/Operator, Small Business, Intermediate, or Standard) will determine your path to achieving COR®. Companies will complete COR® and compliance training, implement a safety program, and complete an annual evaluation of their safety program. Upon achieving COR®, companies who maintain their COR® standard are issued an annual Letter of Good Standing.
Companies who maintain COR® standard are leaders in their industry, working to reduce workplace incidents and injuries. If you want to learn more about COR®, please click here.
Why should your company have 
COR

®
?
Companies who participate in COR® through Construction Safety Nova Scotia benefit from:
Ongoing support from professional OH&S advisors to develop and maintain your safety program

COR® certification is a pre-requisite to bid on provincial government tenders
Eligibility for a WCB rebate once having obtained COR®

Reduced workplace injuries and Time Loss Claims resulting in increased productivity & profitability

Your Nova Scotia COR® Safety Program certification is recognized in other provinces (for a maximum one year) through reciprocal agreements between members of the Canadian Federation of Construction Safety Associations.
Which 
COR

® 
pathway is right for you?
This tool will help you understand the process for COR® certification, which depends on your company size and classification. Complete and submit the questionnaire below to learn more about your pathway to achieving COR®
What is your maximum number of regularly employed personnel?

Do you hire sub-contractors?