To not be COR® certified is ignorance and negligence: Roofing company owner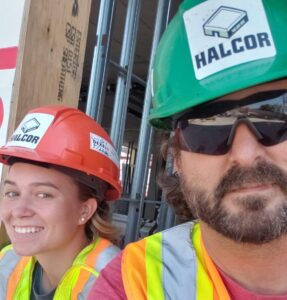 When Michael Croft started in the roofing industry at 16 years old, there was no such thing as fall protection.
"If you did feel there was a risk of falling, you had basically a lap belt with a rope on it — and there's nothing safe about that either," said Croft, who is the president of Halcor Roofing and Sheet Metal, based in Halifax. "If I was a kid now, I would feel much safer being on sites than I did back then."
Croft uses those experiences and shares the stories he has accumulated after 30 years in the business to make sure his employees work safe.
"It all starts with me," he explains. "And while I am there working on sites with them, I can relay safety instructions and teach the younger guys what they need to be aware of."
When they start a job, they identify all the hazards together as a group and Croft makes sure everyone is involved in safety.
"We're a small company, so we're much more one-on-one and interactive," said Croft. "That really helps with everyone being taking responsibility safety."
All the guys on site are comfortable speaking up if they see any hazards, they are always looking out for each other, and they respect safety rules and procedures.
"We're all in it together," Croft says.
Importance of COR®
Croft sees COR® as the industry standard and says there is no excuse to not be COR® certified.
"At this point, everybody is doing it, and if they're not doing it, I just think that's ignorance and negligence," he said.
Advice for small business owners
Croft stresses that safety starts with each business owner — they set the culture.
And when a new individual joins the team, make a concerted effort to make them feel welcomed and treat them right.
He also recommends doing what you can to get more young people into the industry.