SEPTEMBER 2022 MEMBER PROFILE: MARCO GROUP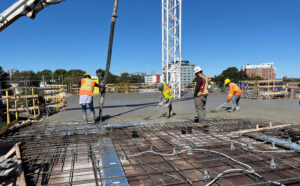 At Marco Group, communication and consistency are keys to safety success
Marco Group is the largest Atlantic Canadian-based general contractor. They operate in the retail, commercial, recreational, multi-residential, entertainment, health care, educational, and light industrial sectors as design-builders, construction managers, and  general contractors. The company is proud to be COR® certified and it actively encourages this certification in its subcontractors.
"When we see a subcontractor is COR® certified, right away we know they have the basic elements of a program in place," says Patrick Mills, safety manager for Marco's Dartmouth office."[We know that] a third party has come to them and said 'Yes, you have a policy and you have safe work practices and job procedures.' We know their program has been vetted."
The culture of safety at the company is very strong, Mills notes. This is especially apparent in the commitment shown by their superintendents.
"[Our superintendents] have the greatest span of control on our sites. They are the ones having the conversations with the trades, and they know really what is going on," he says. "They have a safety background and field experience — they've seen a few things — and they can have conversations in the field about safety and relate to the subcontractors' experiences.  If they see a hazardous situation they immediately take the subcontractor aside and tell them why it could cause problems."
Marco's newer superintendents are mentored by the more experienced individuals, so they learn how to establish a positive safety culture and outline their expectations to the subcontractors. This ensures the program is consistently enforced on all project sites.
Speaking Up
Marco encourages workers on their sites to speak up and report hazards when they encounter them.
"We want people to speak up if they notice a potential hazard" says Mills.  "The more people are comfortable stepping forward, the more hazards will be reported. This helps make everyone aware of potential risks and their controls, and we all learn from it," explains Mills.
With this in mind, each quarter the company recognizes an individual on each job site that has demonstrated an exceptional attention to safety. "Positive reinforcement has proven to be effective," says Mills, "and its also good for morale. It benefits everyone in the long run."
Marco's commitment to creating a respectful workplace also enhances site safety.
"A respectful tone encourages people to have more open conversations and encourages safety. I do think they go hand in hand," Mills says. "The more respectful things are, the more willing people will be to help each other out on site."
 Mental Health
Marco goes beyond industry standards to prioritize mental health in the workplace.
Employees and their families have access to an Employee and Family Assistance program and an annual benefits allotment for psychology and counselling services in the amount of $1,000.
The company also has a wellness program that allows employees to connect with health professionals that provide can training and resources customized to each employee's needs to improve their physical and mental wellbeing. Marco also supports mental health first aid training to ensure our teams have the tools to manage a mental health crisis should one arise on a project site.
"Mental health is definitely a contributor to accidents," says Mills. It might not be captured in the incident investigation as a root cause, but it can definitely be a contributing factor. Knowing we have access to mental health support if we need it, is a massive benefit to everyone on our team."
Leadership Commitment
The leadership at Marco is very involved in safety. Corey Taylor, Marco's senior vice-president of operations, is involved in safety meetings and makes frequent site visits. Mills notes that the involvement of senior management has been a key element of Marco's safety success.
"[Corey] is constantly making observations himself. In other organizations, management may not be as involved, but when you have a manager who is going out to the job sites and seeing the work being done, and who knows right from wrong in the safety world, it's highly beneficial to everyone," he says.
Marco's focus on communication and consistency is clearly paying off. The company is a three-time winner of Construction Safety Nova Scotia's Safety Champion Award and the ongoing Corner Brook Acute Care Hospital in Newfoundland has reached over 2,000,000 worker hours without a lost-time injury.
"We continually look for ways to improve our safety program," says Mills, "and we are proud to see everyone go home safely at the end of the day."