News
News Release: Construction Safety Nova Scotia reminding construction companies about Suicide Prevention Month
September 13th, 2022
Construction industry has high suicide rate, according to CDC, but CSNS has resources available to help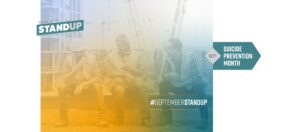 DARMOUTH, NS — Male construction workers have a 65 percent higher suicide rate than male workers in all other sectors, according to a report from the U.S. Centers for Disease Control and Prevention (CDC). September is Suicide Prevention Month, and Construction Safety Nova Scotia is urging its members to focus on mental health on the job site.
"Mental health and psychological safety is just as important as physical safety on the job site," said MJ MacDonald, CEO of Construction Safety Nova Scotia. "We want to shine a light on Suicide Prevention Month and make sure our members know it's important to look for signs in your workers. But you're not in this alone – there's many resources available for how you can support them if they are at risk."
Construction Safety Nova Scotia has several resources available on its website to support construction sector employers broach the difficult topic of suicide in the workplace:
Four toolbox talks on warning signs, how to talk about suicide, the risk of suicide in construction, and making mental health a priority
Suicide prevention posters
Needs analysis and implementation tool
According to the CDC report, a high-pressure work environment, working in remote locations, and a "tough guy" mentality all contribute to high suicide rates in the construction sector. To that end, mental health in general needs to be a focus for construction sector employers.
"There's much to be done to get workers comfortable speaking up about mental health, but take a slow and steady approach: Discuss it during toolbox talks, show some mental health videos, and don't be afraid to mention your own mental state if you're having a difficult day yourself," said MacDonald.
CSNS has resources specifically for employers and employees on its website, as well as many mental health videos.
Image and suicide resources courtesy of the Construction Industry Alliance for Suicide Prevention.
ABOUT CONSTRUCTION SAFETY NOVA SCOTIA
Construction Safety Nova Scotia (CSNS) is an industry funded not-for-profit association focused on improving occupational health and safety in the construction sector. All companies with a current WCB account under the construction industry classification codes 4011-4499 and 3551 are automatically members of the association due to the levies they pay to the WCB. CSNS is a highly regarded leader in occupational health and safety (OHS) services with over 300,000 students trained in health and safety and over 1,150 firms attaining the association's COR Safety Certification. Members receive subsidized training and access to free mentorship for all aspects of their OHS programs. The board of directors, trainers, OHS advisors, and CSNS staff work towards a safer construction industry by engaging with its membership to reduce injuries and improve safety culture. https://constructionsafetyns.ca/
Farewell to our retired board member, Brad Smith
August 24th, 2022
MJ MacDonald, Construction Safety Nova Scotia CEO, presented Brad Smith with a thank you plaque for his ten years of service and leadership on the board last Monday, August 22, 2022.
Brad Smith is a retired Board Director and was a representative for the Mainland Building Trades Council. We are thankful for his dedication and contributions to CSNS and the construction sector in Nova Scotia.