New awareness campaign aims to educate homeowners on potential liability when hiring contractors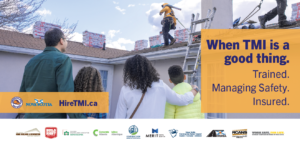 May 15, 2023
Construction Safety Coalition — made up of 14 industry partners — coming together to address worker safety at heights
 DARTMOUTH, NS — Every year, construction workers die on the job or are severely injured as a result of improper fall protection when working at heights across Nova Scotia. These injuries occur in all types of workplaces, including on residential homes when completing work such as re-shingling or building an addition. But most homeowners are unaware they could be legally and financially liable should an injury or fatality occur when a contractor is working on their home.
"When you are having work done on your home, the obligation of the homeowner under the OHS Act is the same as any other major construction site owner — but most homeowners are completely unaware of this," said MJ MacDonald, CEO of Construction Safety Nova Scotia. "This means if an incident occurs, you could be held liable for medical bills, lost wages, or damages."
To address this issue, a total of 14 organizations making up the Construction Safety Coalition have come together to launch a new fall protection awareness campaign funded through the Occupational Health and Safety Education Trust Fund. The campaign launches today across multiple channels and mediums, and targets homeowners across the province. It encourages them to ask for "TMI" when hiring a contractor:
T- Trained: Do they have safety training certificates for a Fall Protection course? Make sure they are not expired.
M- Managing safety: Do they have a safety policy or safety management plan in place? Do they regularly inspect harnesses to make sure they are in working order? Is safety something they take seriously?
I-Insured: Do they have Workers' Compensation Board insurance? Ask for a clearance letter.
"In this case, TMI is a good thing! Homeowners should not shy away from asking for this information," said Crystal Ingram, executive officer of the Canadian Home Builders' Association – Nova Scotia, which is a partner on the campaign. "Good contractors worth hiring will be happy to show you these documents and proud about the safety protocols they have in place."
"Safety in the roofing industry is not talked about enough in Nova Scotia. It seems that efficiency is king in our world when, in reality, we should be more focused on sending every worker home to their families at the end of the day. We prefer to train our workers to be efficient with the proper fall protection gear so everyone has the peace of mind needed to be working in dangerous situations," said Andrew Solomon, owner of Rydel Halifax. "As a homeowner, I would strongly urge everyone to put their contractors through a proper vetting process to identify whether or not safety is a priority within their company. Fall arrest systems save lives everyday; I believe everyone working at heights should be properly certified to use this system."
Resources and legislation pertaining to homeowners can be found at HireTMI.ca.
Nova Scotians can call 1-800-9Labour if they have questions about fall safety, or to report concerns about unsafe work.
ABOUT CONSTRUCTION SAFETY NOVA SCOTIA
Construction Safety Nova Scotia (CSNS) is an industry funded not-for-profit association focused on improving occupational health and safety in the construction sector. CSNS is a highly regarded leader in OHS services with over 300,000 students trained in health and safety and over 1,150 firms attaining the association's Certificate of Recognition (COR®) safety certification. The board of directors, OHS advisors, and CSNS staff work towards a safer construction industry by engaging with its membership to reduce injuries and improve safety culture. The association is passionate about saving lives and reducing injuries through industry-tailored instruction and advice. ­https://constructionsafetyns.ca/
ABOUT THE OHS DIVISION OF THE GOVERNMENT OF NOVA SCOTIA
Workplace safety is our number one priority. We will work with Nova Scotians so that everyone understands the province's occupational health and safety rules. We use our Pathways to Compliance (PDF) to help ensure workplaces are compliant. We encourage Nova Scotians to work with us to build a strong culture of Health and Safety. Safety is everyone's responsibility. Work safe, Home safe, Everyday.