Kings Refrigeration gets nearly perfect COR® audit scores year after year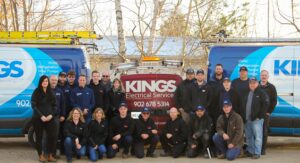 A fun recognition program and support for any safety concerns engage employees in safety
Kings Refrigeration and Air Conditioning Ltd. is based in Cambridge, N.S. but serves Halifax through to Digby and the South Shore. Their employees can be found servicing roof top units on commercial buildings and installing heat pumps in remote areas — all while driving on icy or dirt roads — but no matter where they are working, safety is always top of mind. In fact, safety is so strong at this company that many auditors have told them it is one of the best safety programs they have seen in the province.
"Several auditors and safety trainers all have really raved about our safety program," says Jeanette Joudrey, operations manager and safety supervisor at Kings Refrigeration. "Over the past three years, we have received 99-100 percent on our COR® audits. And from what I hear, that's unheard of. We put a lot of work into it and it's nice to see that recognized."
Joudrey says being COR® certified is important for Kings Refrigeration because it's a big recognition for the work they have put into their safety program; it also gives them a competitive edge for tender bidding and larger jobs; it is more widely recognized than some other programs out there; and as a bonus, it helps the company attract and retain skilled trades people.
"Employees are interested in an employer who takes their safety seriously. Knowing we have passed everything to become COR® certified really reiterates that," Joudrey says.
Safety starts with leadership
But how do they achieve such impressive scores? It all starts at the top. Leadership always stresses the importance of safety, and the company has made a considerable financial investment to achieve their safety goals. The staff at Kings have a strong working knowledge of health and safety topics, they complete near-miss and incident reports, and they know the importance of communicating any safety concerns they have. For example, they know they can refuse unsafe work at any time due to the company's strong policy around this.
"If people refuse work, it is not something that is reprimanded; it is thoroughly investigated, reassessed, and redesigned in order to be safer," Joudrey says. "Safety comes first with us every time."
Safety orientation
Right out of the gate, new employees understand the importance of safety at Kings Refrigeration as they undergo a "stringent" safety orientation on day 1. The expectations are outlined for safety, the policies are reviewed, and it is clearly communicated that the company takes safety very seriously.
"We have the same disciplinary process for safety as we do any infraction: Three strikes, you're out," Joudrey says. "Safety is no different than how you treat everything else. If you don't follow the safety policies and procedures we have implemented, then you won't have a job here long."
Communication
Communication around safety is very important to Joudrey and she makes sure to involve staff in brainstorming new policies and growing the safety program. This is a great way to combat complacency among long-term staff as it is making safety more interesting. Joudrey is always coming up with new toolbox talks, having guest speakers come in, and has implemented an employee recognition program. The program is a big hit with staff and involves getting stickers for working safely, for coming up with new ways to work safer, and for great teamwork and customer service. At the end of each month, whoever has the most stickers will win a small prize and gains recognition as the Employee of the Month.
"It keeps them interested, involved and rewarded for their good safety behaviour, which is a win-win for employees and the company, ensuring all of our employees safely make it home to their families each day," says Joudrey.
Working alone
The company has a strong work alone policy due to the remote nature of many of their jobs. The technicians may be in areas without any cellphone service and it's crucial the company knows they are ok.
"We have tried to do our best to be aware of the safety concerns surrounding solo work, so if an employee is going to be in a no service zone, they need to touch base with our office as soon as they are finished. If we don't hear from them within the expected amount of time, then that's when we will send someone out to help," said Joudrey.
All vans also have emergency supplies such as, fire extinguishers, and first aid kits, and the vans are equipped with GPS tracking as well, so the company can locate them immediately in case of an emergency.
Other accomplishments at Kings include all staff being trained in first aid, as well as a multitude of other safety courses; the introduction of a new asbestos policy and associated procedures; as well as an equality, diversity, and inclusion policy that is currently in the works," Joudrey says.
"We have such a well-tuned safety program now our main focus is on not only maintaining it but also how we can embellish and enhance it, and what new policies can we introduce to help do so."