Mental health a top priority at Bird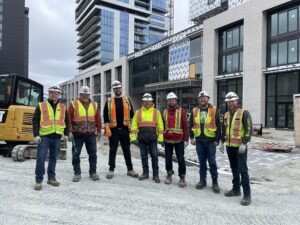 A healthy and safe work environment is a non-negotiable at Bird, including supporting employee mental well-being. The company pursues a "holistic approach" to employee health and wellbeing, and strives for an empathetic culture that considers the mental health and psychological safety of all employees. Bird was the inaugural winner of Construction Safety Nova Scotia's Workplace Mental Health Award, presented at our Annual General Meeting this past April.
Bird's mental health program was developed specifically to address a need within the company to address a gap that has likely existed for a long time, but has been significantly amplified through Covid-19, said Dan Andersson, HSE Director, Atlantic, at Bird. Managers receive Mental Health First Aid training so they are equipped with the tools to recognize and assist workers who may be facing challenges with their mental health. Through the company's Workday learning module, there are numerous free courses on the topic of mental health available to employees. Bird employees and their families have access to an Employee and Family Assistance Program (EFAP).
In step with Merit Nova Scotia's Workplace Wellness Program, Bird is facilitating site-based toolbox talks with a specialized theme for each month, such as mental health stigma, suicide prevention, depression and anxiety, respectful workplaces and emotional intelligence. Andersson says when they first started these toolbox talks, it would just last about 15 minutes, but now sometimes they last for an hour as people have really started to open up.
"Our intent is to talk about this stuff, be open, and let people know it's ok to talk about these things," he says. "We spend eight hours a day with people at work, but we have no idea what goes on in the other 16 hours in their life. Being able to create a safe space where people feel comfortable to talk about these things is important."
Part of the Merit program provides workers with access to "wellness champions" within the company who are passionate about mental health and who assist with putting up posters and educational pieces around job sites.
New programs
Of course Bird focuses on physical safety too, and a new program has increased near miss reporting by 40 percent from 2022 to 2023. QR codes are placed on safety board and throughout a project site, so workers have easy access to scan it and digitally fill out a near miss form.
"It gets rid of the old way of having to go find a near miss card and fill it out and submit it. Workers can submit near misses when they are live and active in the field, and the project team will get an email notification right away," said Andersson, adding corrective actions are then put in place after a discussion with the workers.
Yet another new initiative that is being piloted at the Richmond Yards project in Halifax is the "energy wheel field level hazard assessment," a researched-based visual tool that helps workers identify hazards that they perhaps would have naturally overlooked.
"I think sometimes you get focused on the work you're doing and don't immediately see all the hazards," says Andersson. "For example, say you're working on a project site and doing something at ground level, you may not realize there are people working overhead on a balcony. The energy wheel goes through 10 different categories of hazards and then you see if you can spot any in your immediate work area."
The focus on mental health, new OHS programs, and engaging workers in safety comes straight from the leadership team at Bird.
"It starts at the top with our District Manager being committed to safety," says Andersson. "The first value we talk about at Bird is 'We put safety first', so that is ingrained in the company culture."