Annual General Meeting & Awards Ceremony
Live Stream AGM 2021 – Awards Ceremony

To register as an attendee at this year's AGM, please follow this link: Webinar Registration – Zoom
This Year's Event Information:
Date: May 20, 2021
Time: 10am
Location: Virtual AGM hosted through Zoom Webinar
Event: Join us as we celebrate the achievements of our member firms in the area of safety excellence, review the past year at CSNS, and a feature presentation about inclusion and diversity in the construction industry with guest speaker Ann Divine. Ashanti Leadership & PDS Ashanti Leadership&PDS
Dr. Robert Strang will also be providing a address to the construction industry and accepting our Covid-19 Safety Leadership award.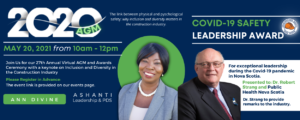 Every year, Construction Safety Nova Scotia celebrates the achievements of its member firms at the Annual General Meeting (AGM) and Awards Ceremony.
Construction Safety Nova Scotia is interested in new and innovative ways to improve on and build strategies that positively impact the direction of the construction industry. Providing mentorship, safety training and advice, Construction Safety Nova Scotia is here to help you bring fresh ideas and strategies that will set you on the best road possible towards achieving a safer workplace.
At our AGM's, we're pleased to celebrate our members' achievements in striving to make Nova Scotia the safest province in Canada.
2018 AGM Award winners
Chair's Awards of Excellence – Safest Companies 2018
Greater than $1,000,000 assessable payroll:
Avondale Construction Limited
Between $751,000 and $999,000 assessable payroll:
Harbour Construction Company Limited
Between $501,000 and $750,000 assessable:
George F. Macdonald Sons Bulldozing & Trucking
Between $251,000 and $500,000 assessable payroll:
Caper Scaffold Services Incorporated
Between $101,000 and $250,000 assessable:
Tibbos Electric
Between $51,000 and $100,000 assessable payroll:
G. A. Leblanc Construction & Services Limited
Less than $50,000 assessable:
C. R. Gillis Contracting Limited
Best Safety Innovation:
Ocean Contracting
Best Practice Safety Award:
Lucas Tree Experts, Bird Construction
Leadership Award:
EllisDon Corporation, Jennifer Bollivar PCL Construction, Dexter Construction Company Ltd, Atlantic Concrete Association
Women and Safety Leadership Award
Jacqueline Hatt, PN, CHSC, CSS
John Rhynold, Marco Maritimes Limited
James Spidell Memorial Award
2020 Award Nomination Form
Thank you for your nominations for this year.
The winners will be presented at the AGM ceremony. Please join us as we celebrate together, the accomplishments of our members in continuing to raise safety awareness to new heights and the reduction in injury and time-loss claims.